Happy December!!!
Happy December Everyone!! It's really beginning to look like Christmas around this part of the Keystone State! We had snow today again.... not a half-foot like on Halloween, just a dusting! But it was definitely enough to get one in the holiday spirit!
We have a couple of fabulous holiday kits in the Scraps-N-Pieces store right now, that are sure to get you in the festive mood as well!
New this week, is a bright and cheerful Hanukkah kit!
This bright and cheerful Hanukkah kit will be a favorite for scrapping your holiday pages! A fun and happy color palette combined with adorable little themed elements and papers is a lighthearted and joyful change from the usual Hanukkah kit! Use it for scrapping holiday photos, making cards, gift tags, and more! Its a wonderful accent for anything you are creating for or about children as well!! Included in this kit: 8 solid papers, 12 patterned papers, a full phonetic alpha including upper/lowercase, numbers, common punctuation, a full Hebrew alpha, and over 40 varied elements!
Here's a few things our amazing Creative Team made this week!
A couple of holiday cards from Me and Paula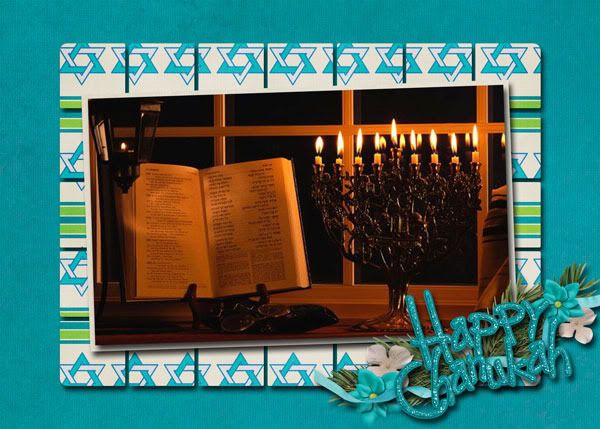 And some Beautiful Pages from Jo!
A gorgeous journaling page from our Guest CT from Scraps-N-Pieces, Mary
And this fun Non-Hanukkah themed page from Melissa, which shows how versatile this kit can be!

Don't forget.... we also have our new Christmas Kit in the store as well!
Both of our Holiday Kits are available for 25% off this week! So be sure to pick them up to add to your holiday stash!
As a little thank you for stopping by today, I have a little Word Art freebie for you!

Have a wonderful and Magical Day!